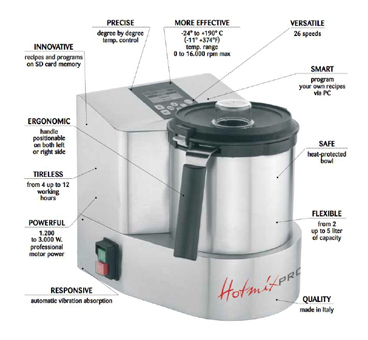 Efficient and versatile unit with the ability to blend, mix, liquidise, grate, crush and can even be used as a slow cooker. Machine features turbo action option to invigorate food as required and can hold up to 250 recipes, with five steps for each recipe. Great for cooking soups, sauces and risottos. Capable of making cold and iced drinks, this multifunctional machine has a diagnostic guide for repairs and maintenance, making it easy to use for a variety of jobs.
Ideal for producing highest standard nutritious food in Care Homes and 'Special Diets' in hospital kitchens.
Leaflet
Specification
Visit Website
Dehydrator
Smoker
Hotmix Presentation
Barbel Quinto
Already in full use in several high profile British kitchens this fabulous Swiss vegetable preparation machine, has proved itself to reduce waste and maximize skilled labour without compromising the highest possible standards.
With a choice of over 40 different cuts, the Barbel Quinto has a unique slicing cut technology, which keeps the delicate cell structure of the Vegetable or Fruit intact, massively increasing the lifespan of such produce. It can slice as thin as 0.7mm; it can produce perfect Juliennes and Brunoises, and can even dice a kiwi fruit or banana.
(Capacity up to 30kg per hour)
Leaflet
Download PDF
Anliker Website
Spiralizer Demonstration'